x
Buggles

Welcome to The Buggles Page
Welcome to the World of Buggles, the New England Teddy Bear who lives in Birr, Ireland.
Buggles resides with Edwin and his parents, who are known as Moma Bear and Papa Bear.
Occasionally, Edwins dad travels overseas to work. Buggles has many friends, Simon is
his best friend and Mr Biggles, the family dog. Bobo, George,
Lucy, Taggles, Calvin, Robin and others keeps the fun going. Most of the time,
the animals remain as plush toys. When the family or Edwin are not around the
house, the toys live joyfully and have fun wih their lives. There is adventures,
but most of their time is just lounging around the house. Come and read
the comic stories of Buggles and his Friends while living in Birr, Ireland.
Buggles First Book- Introduction to Buggles World
by Michael Taven Hill

Buggles Travel Book:

Its Time to Travel...its Time to Buggle

Buggles is Edwins Teddy Bear. Buggles is a Yankee Teddy Bear

who lives in Ireland. Edwin's dad had to go overseas for his work..

Edwin had to wait till summer break to fly to Hong Kong and rejoin

his dad. Come & Read Buggles trip from the countryside of Ireland

to Hong Kong with stops in Chicago and Tokyo.

Ebook- Kobo's $5.75 Kindle $6.00

Print- Lulu Press $ 14.00 8 1/2 x 11 inch Book

Amazon $10.00 6 x 9 inch Book

Barnes & Noble $10.00 6 x 9 inch Book

For ages 9+
Buggles Comic Collections
Buggles Comic Corner

August 28, 2018 Series 1

Available on E Book

In between trips and such, there is a lot of downtime for the animals. Some trips, Edwin does not take Buggles and friends. So what do Buggles

and friends do with their time. Buggles Comic will provide you with some of the pranks they play on one another. In all reality, its Buggles who is the Jokester.

Email for 8 in by 11 in art prints @ oakstreet@tavenhill.com

$45 with Signature

Amazon Createspace Print $10.00 Kobo's E-Book $3.00

For ages 9+

Series 1- Now available in Print & E book Series 2 Coming Soon Series 3 Coming Soon
Buggles Story Features

Noodles or Bust Tour Story

The Duo decided to take a trip to Hong Kong while Edwin was in Chicago for the summer school break. Oh ya, Bobo and George tag along too, or tried to..

Sweet Home Chicago Story

Yes, Working on a second Book....hehe...a Chicago Adventure....

or a hangout book about hanging out in Chicago...

A Scripted Formated Story

Buggles : The Adventures Begin Story

Mericuri- How does a dog drive a car? How does a teddy bear talk, move, eat, sleep and cook a meal?

How does the rest of you stuff animals come alive?

Bugles: We never asked ourselves that and I am sure your going to tell us, right, Leprechaun.

Mercuri- Irish Magic, Old World Magic.

Edwin has been kidnapped by Mericuri the Leprechaun, and they have only two days to find Edwin and to save him. They also will learn how it all started, from the beginning.
Buggles Comic-The (Comic) Show Collection
The (Comic) Show

Buggles: Hey, what day it is. Simon: Thursday, why. Buggles: I thought I have

something to do today, I can't remember. Simon: You said you had something to

do last week, then I told you about the watchathon, you said you were only going

to watch one day of it, that was a couple of days ago. Buggles: Hhmm, It will come

to me.

Taggles: Buggles said to me, hey Taggles, I got a booth in the Dublin Comics

Con, you want to help me out, you get to smooze around the convention, he said.

Today is the first day of the convention, where is he? I am the only who showed

up, the only one who set up the table, thee only one who is here. This is not

my show, its Buggles table show, really Buggles, really Buggles.

Taggles: So good of you two to show up. Buggles: Ya, sorry about that, prior

meeting held me up. After this is over, lets go to O'Connell Street to grab

something to eat, its on me. Taggles: That would be great, this is the last day

for the comic con, its the first day for you to show up. Dinner sponsored by you

would be great. No tab limit right. Buggles: 40 euros, that all I got on me Taggles: Hhhm

This is your booth, Taggles is the only one who showed up, Taggles is the only one

that set up your booth. Taggles is the only one who manage the booth for two days.

Simon: He right, you know hes right. Buggles: I'll stop at the ATM , 50 Euros.

Taggles: eeerrr, I am a tiger. Buggles: Alright, 75 Euros. Taggles: Deal.

Buggles: Oh man, its really starting to hurt hanging from up here. How long,

do we have today. Taggles: Its only six hours today, yesterday, was a ten

hour day. Buggles: Oh, how long we been here. Simon: Half an hour, so that

means we have 5 and a half hours to go. Buggles: How do super heros do it.

Taggles: At least you have a breaker. Simon: Touche. The tiger has a better point.

.

I've been working nonstop since Thursday without a break....Okay, Okay..I had a couple of breaks, The toys come alive after 2AM, they real party animals..Just saying!!
2019 Calendar
Buggle Word Search Puzzles Available in PDF. Print out the puzzle and have bear fun with it...

American Cities Click here

Buggles Click here *Oops 14. On Old Puzzles 14. Moma Bear should be Mama Bear
I do have another Book.....My Buggles, Zoo A B C 's Book
E- Book- Kobo $1.99 Printed - Amazon $16.00 8 1/2 x 11 inch Book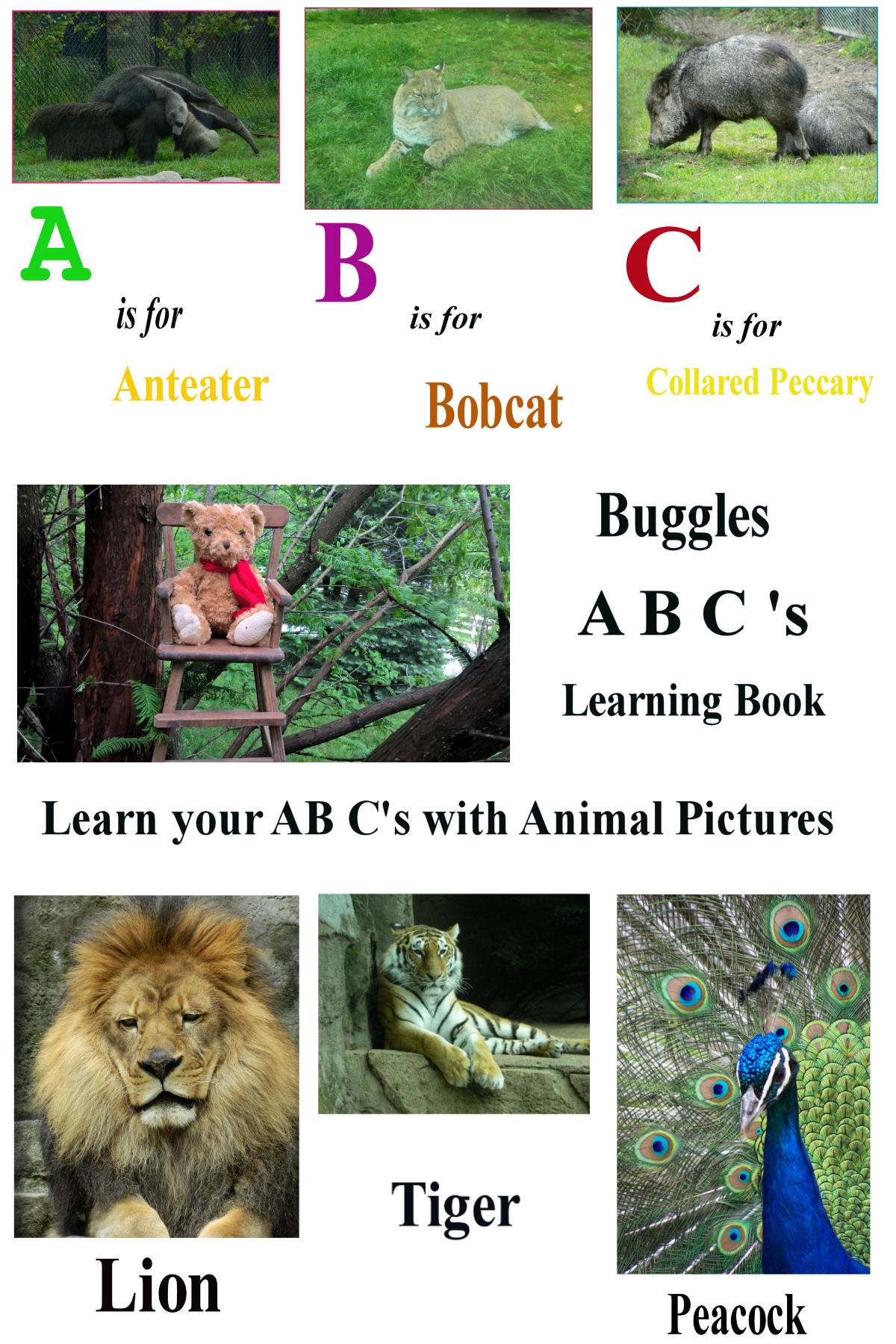 For ages 1+ with Parents reading
Buggles has created a A B C learning book with Animals.
A Virtual Animal Picture Zoo is available within the book.
Learn the A B C's while meeting different animals on the A B C tour.
A bonus in the book is the 2018 Monkey Mayhem and a Lemur Calendar.